Learning, learning and more learning. I firmly believe you should never stop learning! Especially if you want to have and run your own business. And while you are out there learning you should definitely connect with strong, positive people who also think learning is important! That's why this past weekend I traveled to Charlotte, NC to attend Bloggy Boot Camp which was put on by The SITS Girls (if you are a blogger or interested in blogging you need to check them out)!!
Returning from this great learning experience my head was filled with information I had to digest on the drive back to Atlanta, and quite frankly – I'm still digesting. Oy! I have a tummy ache! One nice surprise when I got home was an invite from an attendee to join a Facebook group (oh…you know I love Facebook groups and I've met some great people because of them)!!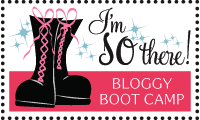 Bloggy Boot Camp
was full of wonderful women who all have blogs that range from exercise to weight loss and mom's of babies to mom's of teens and DIY and everything in between.  In fact, just looking at their Facebook pages I know I have lots of great new blogs to follow and I'd like to share a truncated list with you at this time (I will add more later). Please be sure to check out these Blogs and Facebook pages and support these brilliant women!
Greenville Natural Health Center
Facebook
Blog
Palmettos and Pigtails
Facebook
Blog
Four Hens and a Rooster
Facebook
Blog
Ten to Twenty Parenting
Facebook
Blog
From Corporate to Domestic
Facebook
Blog
Calm.Healthy.Sexy
Facebook
Blog
Your Girls & Boys
Facebook
Blog
More than Mommies
Facebook
Blog
The Dose of Reality
Facebook
Blog
The Fierce Diva Guide to Life
Facebook
Blog
A Dish of Daily Life
Facebook
Blog
The Real Thing with the Coake Family
Facebook
Blog
So, I've Been Thinking
Facebook
Blog
As The Bunny Hops
Facebook
Blog
The Beginning of Crafting
Facebook
Blog
Savvy Southern Parent
Facebook
Blog
Carolina Flourish
Facebook
Blog
Marissa's Well-being and Health (MWAH!)
Facebook
Blog
Cutie Pie Clothes
Facebook
Blog
Uncommon Designs
Facebook
Blog
Brooklyn Active Mama
Facebook
Blog
The Alison Marie Blog
Facebook
Blog
When Crazy Meets Exhaustion
Facebook
Blog
Imagination Installations
Facebook
Blog
Little Blue's Room
Facebook
Blog
Loripalooza Blog
Facebook
Blog
Life After Laundry
Facebook
Blog
Go Cheap or Go Home
Facebook
Blog
I can't wait to continue to learn from, and network, with all these women now that we've connected via our Facebook Group. I have a lot of stuff I want to do to enhance my website and things I want to do to make my blog seen and read by more people. I love to write as much as I love to learn. So be sure to stay tuned and follow along because I have no idea what the future will hold.
I can't get there without you, or the people I meet at these events. Show them some love as well – they all have some remarkable stories to share!